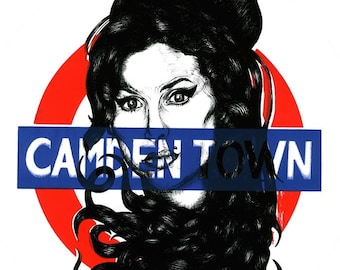 Although I am a fan of Frankie Goes To Hollywood – my era, my City of birth, the title relates to me running through two entirely different parts of London today.
I had a routine hospital appointment at Hampstead and decided after the appointment that I would run home, but a quick check on Dr Google's Maps App made me realise it wasn't a sufficient number of kms, for me to keep on track with my Alzheimer's Challenge.
What to do?, well I thought I'd run to Marylebone to my hairdressers and book in a much-needed shzuzz (I don't how you spell this word….) and then run home and that hopefully would get me to 10 or 11kms today.
Hampstead Hospital is more or less at the top of a hill and so my run back was mainly downhill, which was very helpful for a middle aged wheezing wreck, with a very runny nose accompanying her today. Hampstead is full of yummy mummies, pushing Bug a Boos, the mums wearing Nike Roshe trainers, Sweaty Betty yoga leggings and lush parkas. I was running down Haverstock Hill, near the Belsize Park tube station and I counted six Yummys before I hit the bottom of the hill.
Hampstead then morphs into Camden, and here the vibe changes, it's a little more edgy, multi-cultural, and a hell of a lot younger than this middle aged wheezing lady. I ran past the Roundhouse – there the one and only gig I've been to was seeing Erasure a few years ago. I made a mental note to see who and what is on again, for the next time I'm feeling 'edgy'. Past Regents Canal and the shops are definitely more youthful and I am making the average age soar as I run through. Next on the cards Euston Station, hmmm, what can you say about a railway station? Nothing much except as ever any side of a rail station is always the wrong side of the tracks, I schlep quickly along here and am just about hitting the 5km mark. The Euston Road is notoriously bad for traffic and pollution so I skip across towards Gordon Square and make my way uptown to Marylebone High Street.
Aaah, we are amongst the Yummys once more, only even more well heeled here than in Hampstead. I drop off into see Richard the man who does the shzuzzing, and he does a double take at my appearance. At best, I think I may look like a pink faced ninja, in my all black ensemble (I ditched the fluoro today in favour of City neutrals). At worst, well judge for yourselves…
He uttered those words I never want to hear again 'mmm Jan, an interesting look'. Interesting is definitely 'Richard code' for 'wtf do you look like?', which to be honest is similar to my Italian friend Gessica's statement of 'particolare' which means particular. Two different tribes entirely; an English hairdresser and an Italian molto chic, working mum, but both in their own ways, use words to devastating effect. And I thought today, Gessica would probably have looked at me and said 'particolare'.
Today, I started off in Yummy Mummy territory, where I sort of matched with my leggings and Sweaty Betty top, but this was all early on in the run – no-one gave me a second glance in Camden, anonymous middle-aged lady wearing sweaty running kit 'nothing to see here folks'. And then my image took a huge tumble in the Really Yummy Mummy territory of Marylebone, where I stood out for all the wrong reasons.
It certainly gave me impetus to run out of there towards home, where thankfully there aren't quite so many Yummys in residence. Today I was part of the running, sweaty, edgy tribe. Next week when I return to Marylebone, I think I need to up my game, and go for Yummy status, if indeed that is possible at my age and wear and tear.
Playlist
Jean Genie – David Bowie
Scooby Snacks – Fun Loving' Criminals
Personal Jesus – Depeche Mode
Oh Woman Oh Man – London Grammar
Maid of Orleans – OMD
Jenny Was A Friend of Mine – The Killers
Dreaming Of Me – Depeche Mode
Let's Spend The Night Together – David Bowie
Cant Stop The Feeling – Justin Timberlake
Mulder and Scully – Catatonia
Fuck You – Cee Lo Green
Locomotion – OMD
Just Can't Get Enough – Depeche Mode
Love In Itself – Depeche Mode
Get Back – The Beatles
Let's Spend The Night Together – David Bowie
5:15 The Angels Have Gone  – ditto
By The Way – Red Hot Chilis
Tired of Waiting For You – The Kinks
Geno – Dexy's Midnight Runners
David Watts – The Jam
Ghost Town – The Specials
Just Another Nervous Wreck – Supertramp
The Only Living Boy In New York – Everything But The Girl
Don't Need The Sunshine – Catatonia
Animal Farm – Madness
Stats
Distance 12.38km
Time 91.21 mins
Average Pace 7:35 (mins km)
Elevation Gain 28 m
Yummy Mummies Hampstead 6
Yummy Mummies Marylebone  – way too many to count
Alzheimer's Challenge
Km's To Date = 55.66
Kms to Do 1962.34 (hey ho, it's not getting any easier!)